Do you remember what life was like prior to Google? We do! Google has made life easier in a lot of ways.
We have just about any piece of information at our fingertips. It's made getting a little older bearable at least. If you forget something you can just Google it! How satisfying is it to just "Google" anything and instantly find just about whatever you want.
On the other hand, if your main intent in using Google is to get your website to rank in the top search results, Google can be extremely frustrating. How do you compete with millions of other sites? It can be overwhelming.
Most everyone that we've worked with has had no concept of how to achieve top rankings. They all thought you should be able to instantly get into the top results. I've had to deal with some upset people in the past (in a former career) when I wasn't able to get the exact result they wanted nearly immediately! About the only way to get search engine results immediately is through paid ads. But if you're not able or willing to pay for paid placements, we just do it the old fashioned way.
That's where SEO comes in.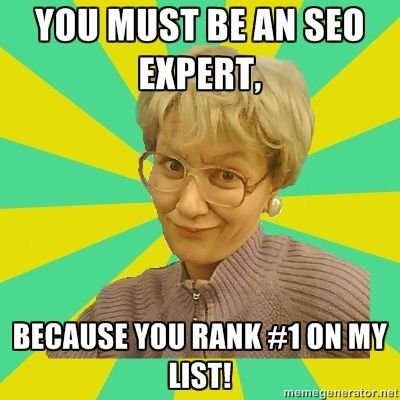 What is SEO?
We're pretty sure the acronym "SEO" is common knowledge these days, but just in case you don't know it stands for Search Engine Optimization. Even though most people are familiar with that acronym, not everyone knows how to tackle it.
Search Engine Optimization is the art of designing your site with search engines in mind. Search engines use "bots" to "crawl" your site, which basically means a computer (bot) comes in and reads your site. Then your webpages are incorporated or updated (if it's already on a search engine) on Google and other search engines. Once the crawl is completed, search engines use algorithms that determine how you show up and where you show up on a search results page.
There are a number of different factors in determining where you land on the results page, including content, architecture (page loading times and hosting location, for example), links, html (how your webpages are coded behind-the-scenes), and more.
Why You Need Our Help
Now that we've answered the "what is SEO?" question, let's tackle the next question of "why do you need our help with it?"
To get started in optimizing your website, the first thing we'll do is a deep analysis of your search engine results and traffic. We also look at how much traffic is currently coming to your site and how that traffic gets there. Is it through organic search, through social media, or some other way? What are your best keywords? How many keywords do you have now that are generating traffic? How many could be generating traffic? What keywords do you think should be doing better? We will also look at your competitors to see their strengths and weaknesses.
Once that thorough analysis of your website is complete, it's time to develop a strategy to increase the amount of traffic that comes from search. Search strategies can take many different things in to play like readability, keyword usage, referring domains, relevant data, adding metadata, making sure you have good content, fast page loading speed, and competitor data, as well as any other relevant things that may have come up during my research.
As we build this strategy, we can build up new keywords that will also increase traffic. Building these strategies will also help take advantage of your current and future content. We can help old content become indexed better in the search engines. And it will make future content show up better from the beginning.
Still confused by all of this? That's where we come in. We'll take this daunting task of optimization and handle it for you. We bring results based changes and improvements to your site. And that will bring you more visitors and traffic on a regular basis.
Over the next few weeks and months, we'll share some tips and tricks we have picked up over the years. These tips and tricks have helped websites both small and large increase their traffic.
Have questions? Need help?? Leave a comment below or fill out or contact form on our homepage. Let's get you started with a search engine strategy to help you build more qualified traffic to your site.