What I'm Reading Next shares what Julie has on her bookshelf to read next!
I enjoy reading. I really do. But lately we've been happily swamped with backend project management and client calls (we are so happy to be this busy!). So reading has taken a bit of a back seat for me. So instead of doing my usual book review today, I thought I'd share what I'm dying to read. And, if you have some self-improvement books you love, I'm hoping you'll share them in the comments. I can always use more books on my "to read" list!
Below I'll share the titles, their Amazon descriptions, and why I'm excited to read them!
So let's dive in. Here's What I'm Reading Next. (Which is not to say I'm getting all these read in July; just what's currently on my list!)
Everything Is Figureoutable by Marie Forleo
I've been waiting to pull the trigger on this one for about a year. My life coach recommended this book to me early on, and I'm not sure why I hesitated. Well, probably because I have a tendency to "collect" books without reading them. Like, maybe I think I'll absorb the information by osmosis? I don't know.
Anyway, this whole theme of everything being "figureoutable" came up multiple times in my coaching sessions. So I recently bought it. Here's a little teaser from the Amazon listing:
While most self-help books offer quick fixes, Everything is Figureoutable will retrain your brain to think more creatively and positively in the face of setbacks. In the words of Cheryl Strayed, it's "a must-read for anyone who wants to face their fears, fulfill their dreams, and find a better way forward."
If you're having trouble solving a problem or reaching a dream, the problem isn't you. It's that you haven't yet installed the one belief that changes everything.
Whether you want to leave a dead end job, break an addiction, learn to dance, heal a relationship, or grow a business, Everything is Figureoutable will show you how.
You'll learn:
•  The habit that makes it 42% more likely you'll achieve your goals.
•  How to overcome a lack of time and money.
•  How to deal with criticism and imposter syndrome.
Having just recently read You Are a Badass by Jen Sincero, I'm on a "overcome all the crap" kick. It helps a lot that after a year of having a life coach (best investment ever!) my mindset is now in a place to actually practice what books like these preach. I'm currently a few chapters in. I'll report back in August with a review!
Self Coaching 101 by Brooke Castillo
A friend of mind recommended The Life Coach School podcast to me years ago. And I really ought to thank her for that because I would not have hired a life coach without this baby step. Being life coached has been transformational for me personally.
I've listened to nearly every podcast from Brooke (some more than once) and had an amazing life coach from The Life Coach School. However, that doesn't mean I'm done learning. So this book is sitting on my shelf waiting for me to finish Marie Forleo's book.
Here's an excerpt from Amazon's listing for Self Coaching 101:
Self coaching is about feeling better. It really is that simple. Everything we do in our lives is because we want to feel better. When we give-it feels good. When we help others-it feels good. When we accomplish something-it feels good. Whenever we feel bad-we are usually seeking a way to feel good. The reason we want to feel good, is because it is our true nature.
Alignment with our spirit-our true essence-the God within us feels good. It feels peaceful, joyous, honest, abundant and free. Through coaching ourselves we can feel good much more of the time. By coaching ourselves we find what is not working in our lives. We find that trying to change the external circumstances to change how we feel is impossible. We learn that fighting our emotions or trying to deny them only makes them bigger. We find that our thinking is the most important thing we can pay attention to in order to feel better now.
By taking a peek into our own minds we can find the cause of all our suffering. We can see how we block our joy with outdated and untruthful thoughts and beliefs. By just being in this place of awareness we have aligned with our true nature and can observe the patterns of our lives…it is the process of shifting your own perception with your own awareness that will create non-dependent freedom…
You will step into a life that is lived with awareness and consciousness because each time you feel any negative emotion you see it as a signal to coach yourself and realign with the true essence of you.
Brooke Castillo teaches "The Model" which is a way to bring awareness to what we think and feel. These ultimately determine the actions we take and the results we get.
Even though I know all this after years of listening/coaching, I still feel like I need to learn, read, see examples, and remain aware. I worked hard for these awareness skills. Continuing to use and develop them is vital. I'm really looking forward to honing these skills with the help of this book.
The 5 Second Rule: Transform Your Life, Work, and Confidence With Everyday Courage by Mel Robbins
Hmmm…how did I run across Mel Robbins initially? I believe it was YouTube. And I'm pretty sure that the first video I watched was on The 5 Second Rule. I love her casual fashion, her humanity, and her no nonsense approach.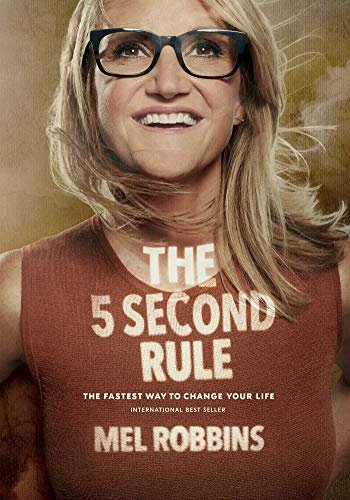 Here's the description from the publisher:
How to enrich your life and destroy doubt in 5 seconds.
Throughout your life, you've had parents, coaches, teachers, friends and mentors who have pushed you to be better than your excuses and bigger than your fears. What if the secret to having the confidence and courage to enrich your life and work is simply knowing how to push yourself?
Using the science of habits, riveting stories and surprising facts from some of the most famous moments in history, art and business, Mel Robbins will explain the power of a 'push moment.' Then, she'll give you one simple tool you can use to become your greatest self.
It takes just five seconds to use this tool, and every time you do you'll be in great company. More than 8 million people have watched Mel's TEDx Talk, and executives inside of the world's largest brands are using the tool to increase productivity, collaboration, and engagement.
I've watched that Tedx Talk. It's been a few years, but I remember really loving it. And I've seen Mel Robbins explain The 5 Second Rule. But what I really want to do is see it in action, played out in stories. So I'm looking forward to reading this one so I can fully visualize the power of it in my mind.
Now I could go on forever with all the books I want to read. But I don't want to overwhelm myself here. Plus, I'd really love some book recommendations from fellow self-improvement advocates like you! So please share any titles below in the comments so that I (and anyone else reading) can benefit.