Please don't skip the latest Windows update….read the whole post to find out why.
I can't believe I'm writing this post, because I'm no fan of Windows updates, but occasionally one comes up that is really important. Most of the time I'm like the meme below:
Windows was supposed to be only doing updates once per month. Now it seems there are updates every other day! What do these updates do? Well most of them are security related and sometimes Windows introduces new features. You may have noticed the "amazing" update that recently gave us the weather on the windows toolbar…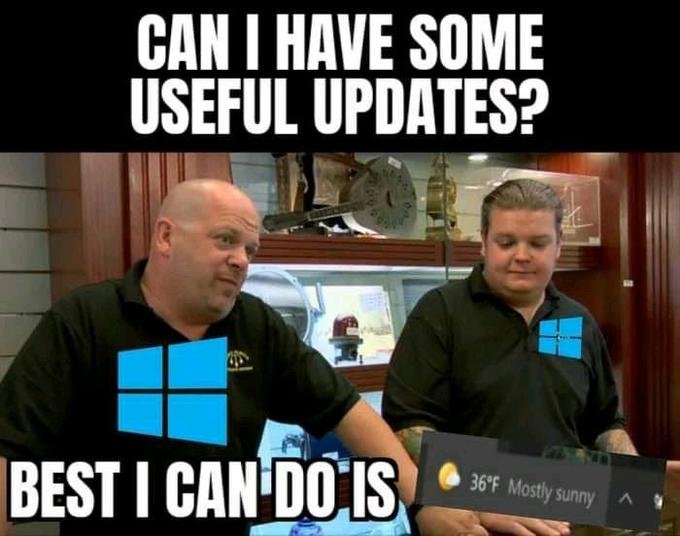 It's Different This Time
Unfortunately the world around us is full of bad guys. Even in the geeky, computer world we have hackers and malcontents that are trying figure out how to get into your computer. Using a windows security hole is sometimes how this can be done. This latest Windows security hole is particularly a nasty one. It can potentially lead to someone taking over your entire computer
Recently, Sangfor (a Chinese company, that provides Internet "security" for businesses) "accidently" published a "proof of concept" exploit for an unpatched critical flaw in pretty much any version of Windows including Windows 10.
The "proof of concept" exploit they published is basically a way of being able to hack into any version of Windows on any unpatched computer, including those running anti-virus software. Even though the Chinese security "experts" deleted the exploit, it was shared throughout the world and is still available to those wanting to do bad things to your computer.
My advice to you is to update your computer as soon as possible. If you haven't updated it recently, there may be more than one update available. Please keep checking for updates until you know all of the available updates have installed. This will insure you have a fix for nasty hacks like this latest one. (If you want to read more about this hack check out the article here.)
How To Update Windows
Not sure how to update Windows?
Click on the windows icon in the lower left hand corner.
Next, click on the gear icon that appears above that (Settings).
Click "Update and Security".
Then, click "Check for Updates".
Windows will then check for any available updates and install them. If Windows ask you to restart your computer, make sure you do that. The update won't actually be installed until you complete the restart!
Now I hate updates as much as anyone else does, but since this is such a nasty bug I wouldn't procrastinate on this one.
Happy Updating!! And checkout my post on Website Backups here.