One of my favorite tools to use as a Virtual Assistant is Canva. I use it to help our clients with refining their branding, social media graphics, print materials, online course materials, and more. After having used it a whole bunch for our own needs as well as for our clients, I have come to appreciate certain Canva features. So I'm sharing six of my favorite Canva features in this blog post. And I've got lots of screenshots to share for those of you who may be new to Canva.
#1 Grouping
One of my favorite Canva features is Grouping. This is a fast and easy way to select multiple items for resizing, moving, etc. Once you have selected them you can hit GROUP in the upper right on the screen to keep them together!
Here's how you do it. You can draw a box to select the items with your mouse, but keep in mind that this will select any other design elements that are in that space. So if you have multiple items, like in the example below, just hold down SHIFT while you click with your mouse on all the elements you want to group together.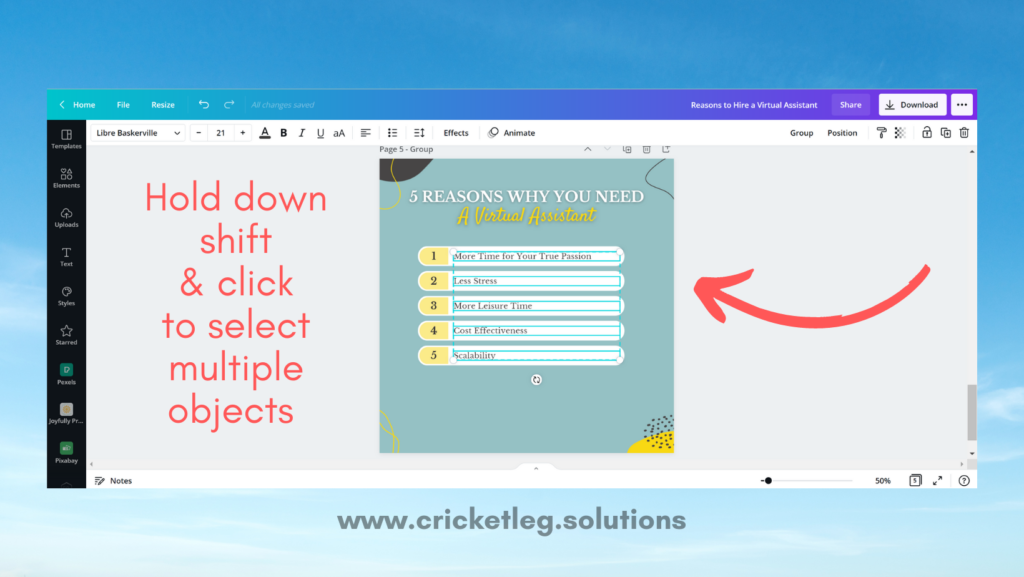 At this point, you can choose to "Group" them so that you can move them as one item later. This saves so much time and headache!! And, you can always "Ungroup" them later if you need to adjust one of the elements. Then, "Group" again if you need to.
Another cool thing is that Canva gives you alignment hints with these purple-y lines. This is not just for centering in your project. It will give you multiple alignment hints based on what other elements are on the page. This feature makes is so easy to line simple items up.
#2 Alignment
Speaking of lining things up, another favorite Canva feature is the "Align" feature. In the example I'm showing here, I purposely moved the text lines so that they wouldn't be lined up on the left. I mean, you can eyeball this, but why when Canva can do it for you?!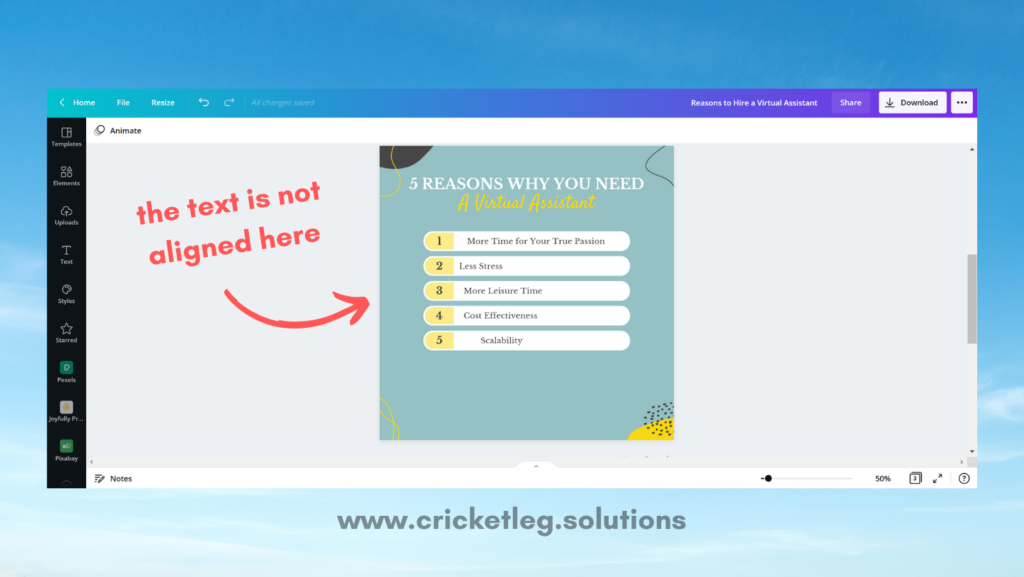 Select the items you need to align (this is usually text for me) but remember that if you draw a box around the items with your mouse, it will grab everything in that box. For this example, I used SHIFT and click to choose all 5 text lines.
Next go to "Position" and choose the alignment you want. For me this was left alignment. (Sometimes this Align feature is hiding in three dots in that same white menu bar….just a heads up.)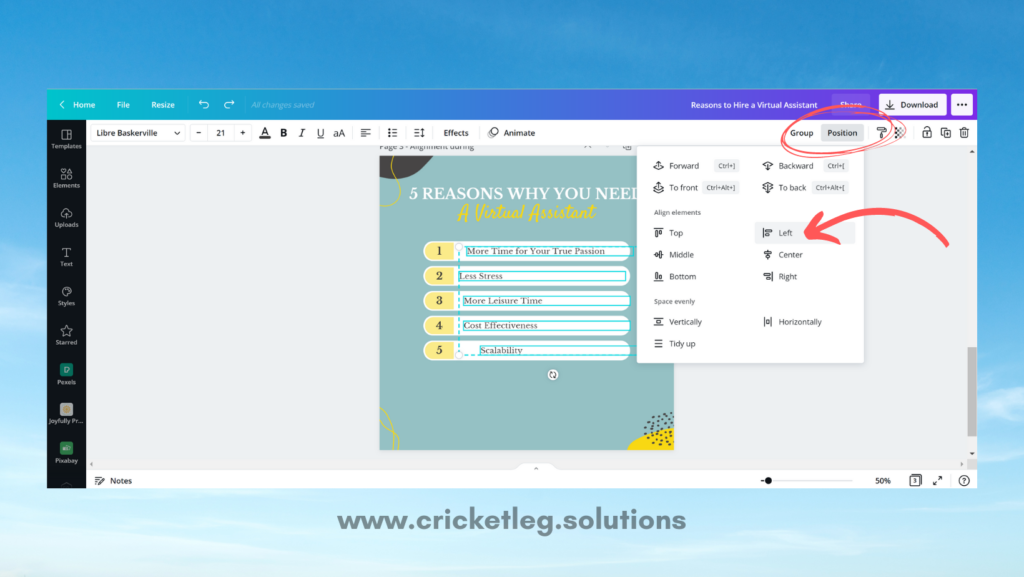 As you can see in the Alignment menu, you have many choice for how you tidy things up. My suggestion is to play with these a LOT so you can get used to them. They really come in handy!
#3 Frames
Another favorite Canva feature is frames. Mostly I use the basic shapes (squares, rectangles, circles) to feature client photos without having to crop the image. Plus, there are some fun shapes….even alphabet letters!
Head over to the left side menu and click on ELEMENTS. Then type in "frame" in the search bar. Here's where all the fun image/photo frames will appear. Scroll through to find what works best for your project.
Click on the frame you want and it will appear on your current project page. Resize it if you need to and use the Canva purple lines to center it or align it with other elements.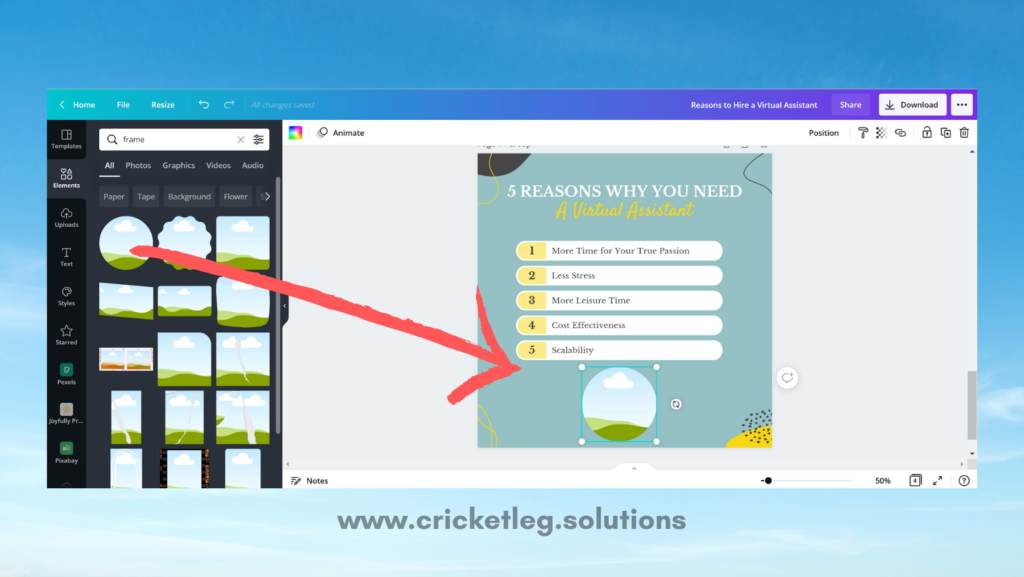 If you want to use your own image or photo, click on UPLOAD on the left side and then click on the purple Upload Media button. Choose the image from your computer. It will appear in that gallery underneath. (You can also upload video and audio!)
Then drag the image over until you see it appear in the frame. You'll see it magically morph to fill the frame.
It may not be aligned the way you want it, or might not be the size you want. So just double click on the image and it will appear at its true size. Then you can drag and/or resize it to your heart's content!
#4 Brand Kits
When I realized that Canva would allow you to upload branding….wow….game changer! This is such a time saver because you don't have to hunt down your branding colors or your branding fonts. Plus, as a Virtual Assistant, I can store my clients' branding in there as well. This allows me to work on their projects and quickly find their colors and fonts!
You'll find Brand Kit on the home page, on the left side.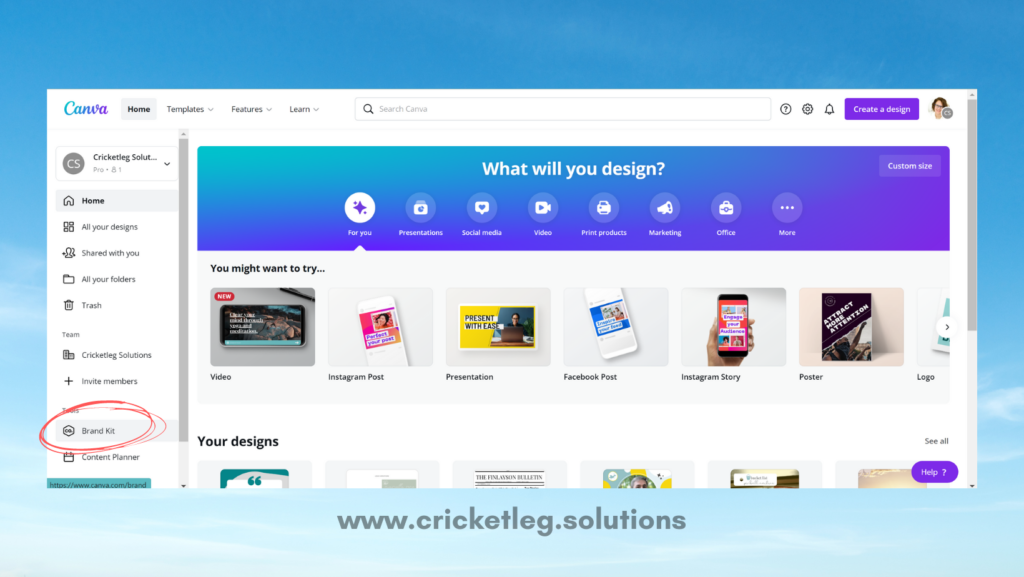 There you will be able to enter logos, colors, and fonts. You can also upload any fonts you need that are not natively in Canva. Below you can see our Cricketleg Solutions Virtual Assistants branding.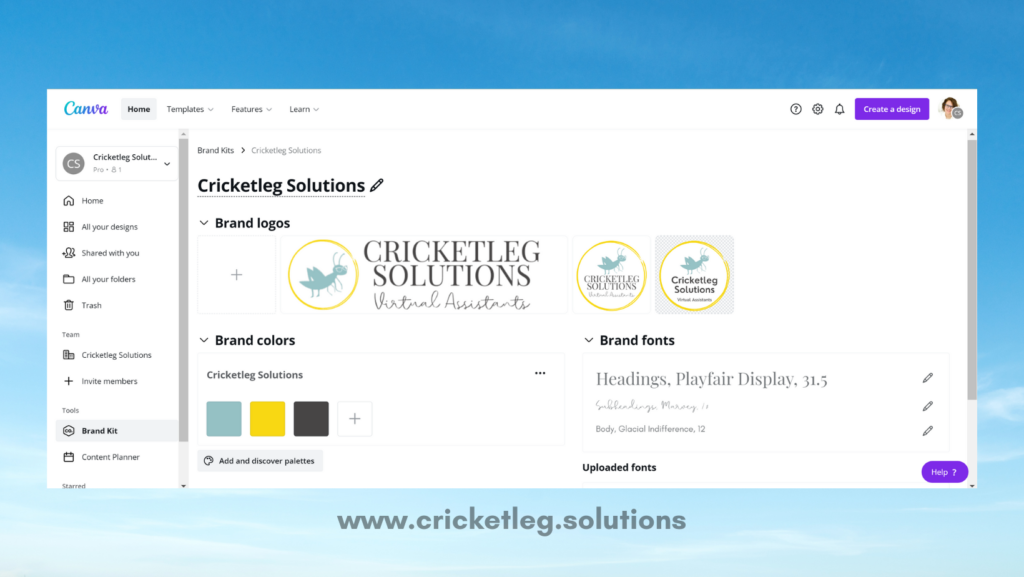 And, here's where it shows up as you are inside a project. You can see in the workspace that I have an element selected (you can see part of it with the blue lines). When I then click on the color picker square in the white menu bar, more colors will show up. Here's where you can pick a custom color or see your branding kit. When I work on a client's project I can click on the drop down just above there to view any other branding kits I've put in.
#5 Photo Colors
And speaking of colors, Canva will suggest colors for you to use based off of any photos you have put on the page. How cool is that? No more guessing!
You can see below that Canva suggested some colors based on the photo I had in the circle frame of me and Rick.
#6 Text Effects
So I use this Canva feature all the time, which is why…duh…it's a favorite of mine! Sometimes text just needs a little nudge to stand out a little more.
To use the text effects, select the text you want to apply effects to and click on "Effects" in the white bar menu. You'll see them pop up on the left. My favorite effect is "Lift" and I use it a LOT! It seems to help light text on light backgrounds to really stand out without making them look busy.
Each effect will have some controls that you can mess with to tweak things a bit. Many times I'll turn up the intensity on Lift, but sometimes the default setting is enough. Again, this is an area you want to explore and play in.
Okay, so check out the difference! It's subtle but EFFECTive. Ha, see what I did there?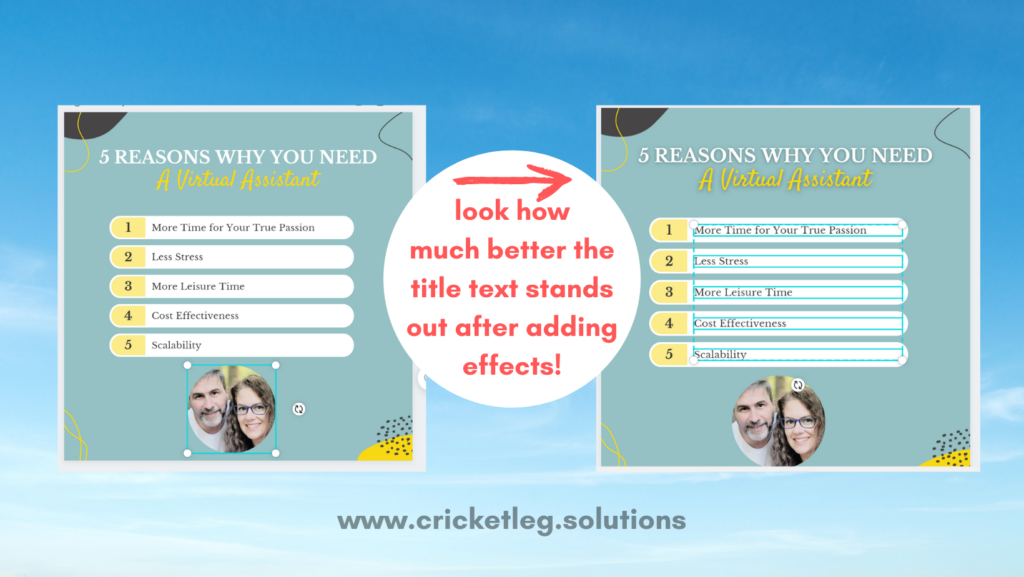 Alrighty, so there you go. Six of my favorite Canva features. These have saved me so much time in all the Canva projects I've done. I hope that at least one of these was helpful for you! Comment with your favorite Canva feature. I'd love to hear from you.